Today's post is a much-anticipated bucket list update! JK I don't really know if anyone has been anticipating this but a few years ago, I made a bucket list and published it on the blog. I've crossed a few things off of it since then and there are a few things I'd like to add/edit! The new things I added I put in green! I love reading other people's bucket lists and seeing what they've crossed off and what they still have yet to do. If you have a bucket list post on your blog… share it with me in the comments please!
Travel
Go on a cruise
Travel to Greece
Visit the Greek Isles
See the ruins in Athens
Visit the Caribbean
Travel to Italy
Go on a gondola ride
Travel to Amsterdam
Travel to Ireland
Travel to London (again)
Go on the London Eye
Ride in a double decker bus
See the crown jewels
Travel to Paris (again)
Kiss Ryan in the Eiffel Tower (super cliche sorry)
Add a lock to one of the love bridges
See the Mona Lisa
Travel to Africa
Go on a safari
Travel to New Zealand
Travel to Australia
Travel to Costa Rica
Take a road trip across the United States
Visit California
Do the Hollywood sign hike
Visit Hawaii
Travel to all 50 states
16/50 visited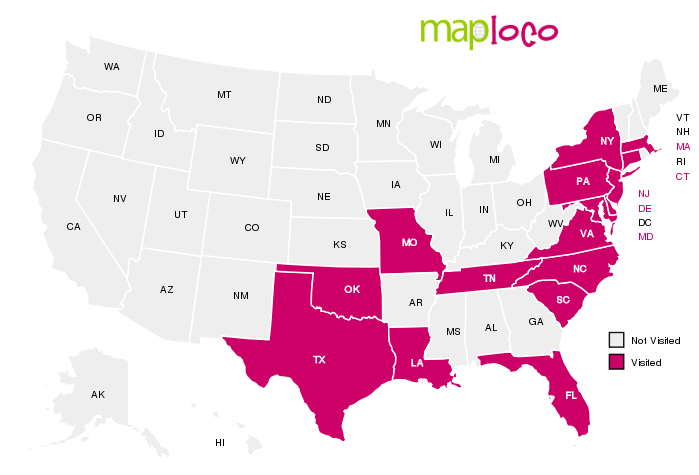 Visit every continent (except maybe Antartica)
2/7 visited
Volunteer abroad
Visit New Orleans (check out my post on what we saw and ate in NOLA!)
Visit NOLA for Mardi Gras
Go to Las Vegas
Fly/travel solo
Blogging
Write a sponsored post (read my first sponsored post!)
Make money blogging
Make $100 in one month (September 2015)
Make $500 in one month (October 2016)
Make $1,000 in one month
Have my own logo designed
Get to 1,000 Instagram followers (November 2015)
Get to 2,000 Instagram followers (idk when this happened but probably 2016)
Get to 3,000 Instagram followers (June 2017)
Get to 1,000 Twitter followers
Get to 1,500 Twitter followers
Get to 2,000 Twitter followers
Get 20,000 page views in 1 month (July 2015)
Get 30,000 page views in 1 month (August 2015)
Get 50,000 page views in 1 month
Get 75,000 page views in 1 month
Get 100,000 page views in 1 month (July 2016)
Get 125,000 page views in 1 month (August 2016)
Get 150,000 page views in 1 month
Get 3,000 page views in 1 day
Get 5,000 page views in 1 day
Attend a blog conference
Meet a blogging friend in real life — I met two bloggers Shaguna and Tiffani IRL this past fall in Texas!
Blog consistently for 1 year
Create a media kit for the blog (I made one in June 2017!)
Post once per day for a whole month
Work with 10 companies
Create some blog-specific hashtags (check out my 3 favorites: #kaylavtravels, #kaylaeeeats, and #kaylaturnspages)
Monetary
Get my own credit card (Last summer I signed up with a Discover IT card! You can sign up too and you'll get a $50 cash back bonus)
Keep track of my budget
Be entirely self sufficient
Invest in some stocks (with Ryan's help)
Open an IRA (with Ryan's help)
Donate $50 to a charity I truly care about
Career
Graduate from Temple University
Graduate with at least a 3.5 GPA (didn't happen… but I was close!)
Get into graduate school for speech-language pathology
Survive graduate school for speech-language pathology
Get a job as an SLP working with children at least part of the time
Love my job
Open my own SLP practice
Life
Be a bridesmaid
Be a maid of honor
Buy a house
Buy a car
Say "yes" to a proposal (get engaged)
Have a pen pal (always looking for new ones!)
Start writing in a journal again
Pay it forward
Have a picnic in a park
Make a scrapbook 
Buy a lottery ticket for myself (and win something)
Get drunk on my 21st birthday
Have my parents buy my first legal drink (pretty sure my friend Nate bought my first legal drink!)
Write a letter to my future self
Buy a "big girl" purse (Tory Burch York buckle tote!)
Own (and wear) a watch (I love my FitBit)
Get my cartilage re-pierced
Register to vote
Vote in an election (2016 presidential election)
Be someone's mentor (Became a Big Sister in November 2015)
Be a guest at a wedding
Send out Christmas cards
Have a better makeup routine/learn more about makeup (I definitely feel like I learned a lot more about makeup in the past year. A few years ago I couldn't even put on my own eye shadow and I can actually manage that now!)
Win a giveaway (I won a monogrammed ring from Alicia Renee Obsessions!)
Own a Lilly Pulitzer dress (this one is similar to mine!)
Own an instant camera (I absolutely love my INSTAX camera!)
Hold an officer position in NSSLHA (I was NSSLHA president during my senior year)
Be a committee head or an E-board member
Be in two places at once
Fly first class
Skills
Take a writing class
Take a photography class (the last semester of my senior year I took an online photography class!)
Knit something (a scarf, maybe?)
Learn how to drive manual
Paint a decent-looking picture
Learn how to french braid on myself
Adventures/Experiences
Ride a horse
Road trip with my brother
Go on a vacation with friends
Dance at Hootathon
Be an audience member of a TV show
Drive a jet ski
Read 25 books in 1 year
Read 52 books in 1 year
Read 100 books in 1 year
Read 250 pages/day
Read 500 pages/day
Attend a drive-in movie (Ryan and I saw Despicable Me 3 at the Circle Drive In in Dickson City, PA)
Fitness/Health
Try yoga
Go to a spin class
Run/walk a 5K
Go to the gym consistently for a semester
Go to the gym consistently for a year
Drink more water! At least 8 glasses/day consistently
Try meditation
What are the top 3 things on your bucket list??