So it's October 21st and I haven't posted anything that could be considered "fall" or "Halloween" related. Whoops! I decided to link up with my friend Merisa over at Monogrammed Magnolias for my first (and hopefully not last?) fall blog post of the year! Be sure to drop your link below if you're posting with us and check out Merisa's post!
We're talking all about couple costume ideas which is an area of expertise for Ryan and I (kidding… kind of). Because fall is a pretty active season in pipeline, Ryan and I have only dressed up for Halloween together twice. It was a blast both times! This year, we're going back to Dallas the weekend before Halloween (surprise!) so we won't really get a chance to dress up at all. However, I have some pictures of our past costumes and some new ones that would be fun to try. Let's get into it!
Danny + Sandy from Grease
I absolutely LOVED this costume. Ryan sucked it up for me and I think we looked so cute. Shoutout to my roommate Kelly who did my hair and makeup and made me look amazing! The pants are high-waisted "leather" from Charlotte Russe, the top is an OTS crop top from BooHoo, and my shoes are just red Steve Madden flats that I had. The jacket was my roommates! Since Kelly is a theatre major, she had these e-cigarettes from a past show she did so we borrowed them as props.
The Walking Dead Characters
This costume was clearly Ryan's idea. However, The Walking Dead is a show we both enjoy! Even though our characters aren't technically a couple (Maggie + Merle), we still made it work! My favorite part of this costume was all of the fake blood and dirt!
Jim + Pam from The Office
This is definitely a costume I can see Ryan and I doing in the future. We love The Office and this costume seems easy to recreate!
Dalmatian + Firefighter
I've been seeing this one around a lot lately and I think it's so cute! Super easy to throw together, too. I'm pretty sure this guy is just wearing a dri fit t-shirt and sweatpants.
Wendy Peffercorn + Squints from The Sandlot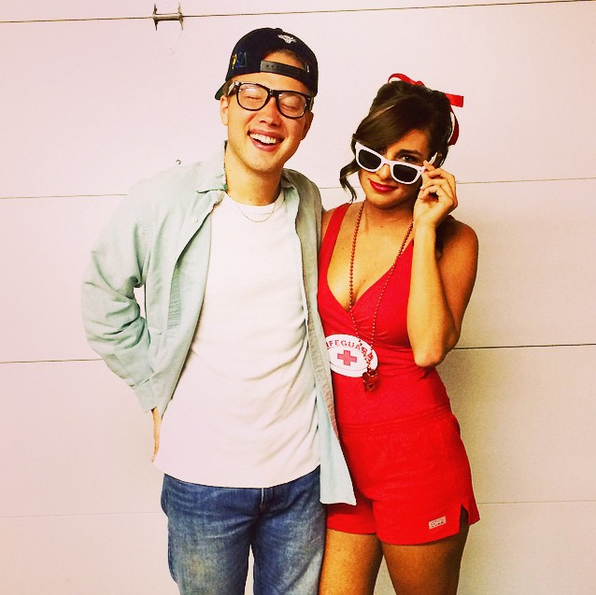 Another super cute costume that I hope to do sometime in the future! The Sandlot was one of my favorite movies growing up and I absolutely loved the Sqints/Wendy "romance" 😉
What's the best couples costume you've ever seen? Are you dressing up for Halloween this year? Let me know down in the comments!